Dr. Dennis Gross Skincare
Shop Dr. Dennis Gross Skincare by Category
Dr. Dennis Gross Skincare
Notify me about

new styles

6pm.com respects your privacy. We don't rent or sell your personal information to anyone.
About Dr. Dennis Gross Skincare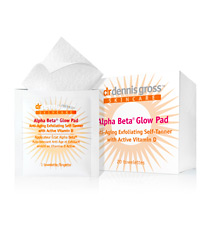 Dennis Gross, M.D., is a practicing dermatologist and board certified dermatological surgeon in New York City. He received his training at the prestigious New York University Medical Center, earning a medical degree with research distinctions. Dr. Gross has trained, taught and performed in-depth medical research at world-renowned institutes such as Rockefeller University and Memorial Sloan-Kettering, published numerous scientific reports on skin cancer and was actively involved in pioneering research on Interferon and Cancer Immunology. He is also the creator of the innovative and award-winning product line, Dr. Dennis Gross Skincare™.

Dr. Gross founded his practice in 1990 and for the past 20 years he has been a driving force in developing cutting-edge, advanced technologies that directly benefit his patients. He interacts personally with his patients each and every day and is deeply invested in their health and wellness. He serves the Skin Cancer Foundation and is an active member of the American Academy of Dermatology, the Society for Dermatological Surgery and Oncology, New York Dermatological Society and the American Cancer Society.

Dr. Gross has quickly become one of the most influential sources in the dermatological and beauty worlds. His expertise in skincare has been sought out and featured by Vogue, Elle, Harper's Bazaar and The New York Times Magazine, among others, and he has appeared as a guest on nationally televised outlets such as The Today Show, CNN, The Early Show, Entertainment Tonight and Extra! Dr. Gross travels the country lecturing and speaking to professionals and consumers about skin health and educating on prevention and protection. He is a regular contributor to numerous articles in magazines and dermatologic textbooks. His research was published in the New York Times Magazine and he authored a book, Your Future Face, which focuses on a customized approach for individual skin problems.