Shop YaYa Aflalo by Category
YaYa Aflalo
Notify me about

new styles

6pm.com respects your privacy. We don't rent or sell your personal information to anyone.
About YaYa Aflalo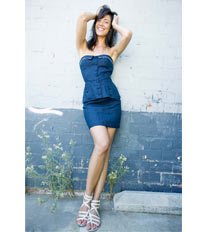 YaYa Aflalo and Love YaYa are headed by the young and spirited Yael Aflalo. Since 1999, Aflalo has been steadfastly building her company to create an amazingly fun and creative working environment. Born and raised in Southern California, Aflalo is neither a typical So-Cal girl nor a crunchy tree hugger. Somewhere in between these two extremes, she has found a platform to speak from and her voice is clothing. Lacking key items in her own wardrobe, Aflalo began with no more than her will to create clothes in which she could redefine how to wear "sexy, confident, comfortable." Almost a decade later, acting as Creative Director for the two lines, she is both proud of and inspired by her accomplishments.

Extracting inspiration from the dynamic LA metropolis that surrounds its studio, YaYa apparel emerges as a fashion staple. For the sophisticated city girl who likes to keep it casual, YaYa pieces can be worn in a myriad of ways. YaYa Aflalo dresses and separates are constructed of luxury fabrics and often meant to be layered. The YaYa line is effortlessly elegant, with just enough trend to keep it wonderfully wearable. The YaYa collection produces quality apparel that flatters the female form and reflects a custom fit.

From the beginning, the foundation of YAYA'a ideals has been based on individuality. YAYA does not aim to create clothes for everyone; we are creating clothes for ourselves, "The YAYA Girls." We consider ourselves archetypically Californian. But, we live beyond the limitations of what that might convey. Hailing from different backgrounds and talents, Aflalo handpicked a team of wonderfully able and committed visionaries who dedicate themselves to creating fashion to live in and reflect our distinct style. Continually striving to define and redefine who we are as individuals, working in a communal environment, the company, the brand and the clothes are constantly evolving with us. The future holds nothing but possibilities and we are overcome with excitement and honored to be dressing you in it.