Shop Urbanears by Category
Urbanears
Notify me about

new styles

6pm.com respects your privacy. We don't rent or sell your personal information to anyone.
About Urbanears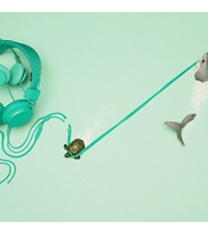 Urbanears is a collective out of Scandinavia, motivated by a common interest in global relationships and shared involvement in the relevance of the living brand. Urbanears promotes a deeper connection to color, form, and people while providing the freedom to transcend individuality and unify the sound experience.

The vision was to add a number of elements to the concept of performance. Beyond the obvious sound rendition, they had a vision of making headphones that felt more like clothes than chromed plastics and felt good to wear in a public space. An Urbanears headphone is always describable as a classic headphone, rather than a bold design statement redefining the product category.

Urbanears gives you functional quality and acoustic performance together with a unique design. They personalize sound and amplify your individual choice. Urbanears makes your everyday music experience complete.