Shop skyn ICELAND by Category
skyn ICELAND
Notify me about

new styles

6pm.com respects your privacy. We don't rent or sell your personal information to anyone.
About skyn ICELAND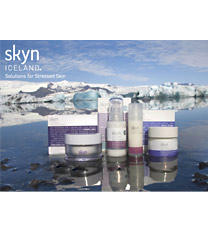 Wanted a doughnut – had three. Printer's jammed. Need my presentation. Pores are now as clogged as the paper feed. Thirty minutes late for work. Feel a breakout coming on. He canceled our date. I'm irritated. So is my skin. Long hike. Beautiful day. Pollution index off the charts. Report's overdue. I'm overwhelmed. Skin is feeling grimy and oily – where to turn for refreshment?

Skyn ICELAND® Solutions for Stressed Skin is the first skincare brand ever created to combat the physiological effects of stress on the largest – and most exposed – organ, the skin. It is a high performance skincare system of products that bring instant relief, immediate results and long-term benefits to stressed skin, both internally and externally.

Every skyn ICELAND formula contains skin-boosting actives and technologically advanced ingredients that help lessen stress-induced irritation, breakouts, redness, sensitivity and premature aging. The products can be used in conjunction with an existing skincare regimen during times of intense stress, or as a daily safeguard for those who lead high-octane lives.

Skyn ICELAND is also the first brand to tap into the pure, unspoiled resources of Iceland. Their products have been developed with the most potent Icelandic ingredients, combined with the most advanced skincare technology, to create the ultimate solution to heal and replenish chronically stressed skin.