Shop Skip Hop by Category
Skip Hop
Notify me about

new styles

6pm.com respects your privacy. We don't rent or sell your personal information to anyone.
About Skip Hop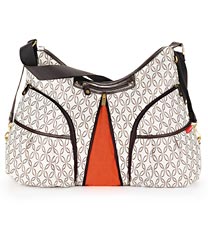 Skip Hop® is a New York City-based company whose only devotion is to make life easier on today's new generation of parents. They genuinely care about each and every mother and father in the world, and only hope to design extraordinary products that can accommodate everyone. They have a down-to-the-core, deep understanding of what parents today are going through because they have been through it, too. Although people accumulate numerous roles and titles throughout life, Skip Hop believes that you are just as stylish and empowered now, if not more, than you were before joining parenthood. Majority of time is spent online these days, but now it can be spent on a parenting web site that is sure to be your new best friend. There's nothing more exciting than becoming a parent and having an entire company at your side!

Skip Hop creates diaper bags, backpacks, and carry-all bags that are very versatile, multifunctional and organizing, but they still keep parents and their children looking stylish. Their hardworking team strives to make sure products are always easy-accessible, ultra safe and still keep all your necessities in an orderly fashion. Skip Hop bags' main goal is to make your day-to-day living easier as a mom or dad, simplifying and organizing your life, but still keeping your desired living space beautiful. Some of their featured creations range from little kid zoo-themed backpacks with fun details and bright colors to lunch bags, crossbody bag, fold out changing station, messenger, to a hobo style and carry all. Each style also includes space for keys, wallets, personal technology and bottle holders.

In 2003, Skip Hop Bags designed the world's first diaper bag that was able to convert into a stroller bag. Since then, they've encouraged themselves to create new parenting items that are unique and transform with your lifestyle, so you don't have to change a thing. Skip Hop not only has a wide selection of styles, but also a variety of colors and fabrics to suit any preference. Products include solid colors to patterns, mix and match, buckles or snap closure and fabrications made of easy-to-maintain fabrics such as soft cotton knit to plush velour. Remember, Skip Hop designs products with only you and your children in mind. They change for you, not the other way around.