Shop SACHIN + BABI by Category
SACHIN + BABI
Notify me about

new styles

6pm.com respects your privacy. We don't rent or sell your personal information to anyone.
About SACHIN + BABI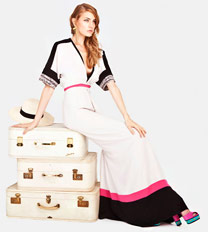 Sachin and Babi Ahluwalia are the co-founders and Presidents of "Sachin + Babi", a two and a half year old fashion collection, borne of their existing companies, ANK Embroideries, (under which they design and manufacture designer and couture embroideries for some of the biggest fashion houses) and ANKASA (the 5 year old luxury home furnishings brand).

Growing up in India, Sachin's family operated design factories. Sachin, on his way to the U.S. to pursue his MBA, convinced his father to let him stay back one year to further explore the field of fashion and design in his family's factories. In one short year, he and his mother were able to grow the business to new heights. Sachin ended up going to the U.S., but instead of business school, he opted to attend FIT in New York, where he majored in Textile Design and fortuitously met Babi, his future wife and business partner.

Babi came from a "fashion family" as well, and always knew that she was meant to design.

"Through our experiences in India and New York, we are able to translate embroideries and surface texture in a very different, modern way. It is a fusion of old world techniques and modern sensibility." It is with this combined background SACHIN + BABI has flourished.

The designers enjoy working with the wide range of materials and production capabilities of their Bombay factory. The Ahluwalia's have directed their focus to surface textures, interesting combinations of fabrics, fabric manipulations and modern silhouettes. They combine what is chic and classic with what is edgy and trend driven.

The "SACHIN + BABI" collection is a unique blend of 'PRETTY" clothing that women want to wear, and "EDGY" clothing that the fashion forward girl craves. The collection translates as a designer collection, with the same fine fabrics and finishing that you would see from a luxury brand.

In only a few years the collection is sold in over 300 doors around the world, including Neiman Marcus, Saks Fifth Avenue, Bergdorf Goodman and Holt Renfrew. The collection continues to grow and evolve and is coveted by many fashionistas around the globe.