Shop Rockadelic by Category
Rockadelic
Notify me about

new styles

6pm.com respects your privacy. We don't rent or sell your personal information to anyone.
About Rockadelic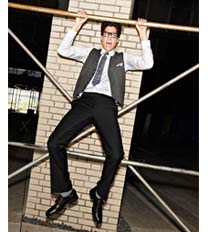 Hip, bold and full of swagger, Rockadelic™ is unafraid to take men's fashion into the unknown and come back with a stylish shoe that's chock full of rock and roll. Born from creative director Alison Muskat's love for men who can't get enough of denim, Rockadelic is inspired by the classic man who looks great no matter what he is wearing. She's bringing the rockstar back to the business world, adding flair and an edgy modern style that will transform the shoe industry.

Rockadelic's designs aren't scared of experimentation. From hand treated leathers to unusual material construction, the brand's collection of boots, flats and high-top sneakers dare to innovate with their modern profiles. The line takes pride in its retro-chic appearance, distressing leathers so that every pair has that vintage look, while remaining a top-quality piece of art.

For the trendiest looks that will transform wardrobes, Rockadelic is the brand to keep an eye on. Their taste for experimentation and love for that classic, handsome and rebellious man will bring back an era of vintage appreciation that's needed in the industry. Unleash the inner rockstar in one of these crafted shoes.