Shop Ragg Kids by Category
Ragg Kids
Notify me about

new styles

6pm.com respects your privacy. We don't rent or sell your personal information to anyone.
About Ragg Kids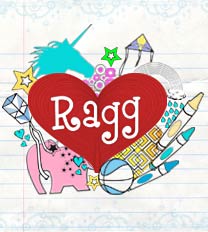 Ragg Footwear is a Southern California based design company of novelty footwear for children of all ages. Ragg Kids has made a name for itself in the market of resort and novelty footwear. With consistently thoughtful designs and signature details of glitz, sparkle and color, Ragg Kids is a recognizable boutique label all over the world. They offer a wide variety of silhouettes, some of those include; bedroom slippers, espadrille sandals, platform EVA flip-flops and a party slipper collection that uniquely serves as a house slipper and a functioning flat due to its low-profile, yet durable, rubber outsole.

One thing Ragg Kids has really constructed their name with is their amazing style for kids. From sparkles, to leopard print, to polka dots and sequins Ragg Kids has everything to make your child feel comfortable as well as cool! With their kid-inspired footwear Ragg Kids uses fun filled colors and designs to make adorable footwear that parents and children will love.

Another aspect that sets Ragg Kids apart is their attention to detail when it comes to materials used in their products. With EVA footbeds and super cushioning insoles Ragg Kids takes pride with each and every product they produce. With the combination of excellent style and outstanding comfort Ragg Kids is a superb choice in children's footwear.