Shop Quagmire Golf by Category
Quagmire Golf
Notify me about

new styles

6pm.com respects your privacy. We don't rent or sell your personal information to anyone.
About Quagmire Golf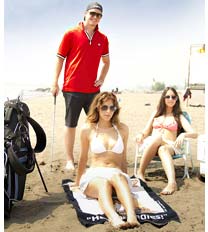 One of the game's most irreverent brands, Quagmire Golf™ has been teeing up its leading-edge apparel line since 2005. Born from the twisted minds of two buddies with a passion for golf, surf, skate and street culture, the collection is perfect for guys and gals seeking gear that can smoothly transition from the course to the clubhouse to the bar and beyond.

Worn by a bevy of star athletes and A-listers worldwide who embody the brand's "Not Fit for the Fairway" motto, the Quagmire range includes polos, shorts, pants, jackets, sweaters, t-shirts, dresses, skirts, belts and headwear. Many pieces feature the brand's "gud N' dri" technology that's quick-drying, moisture-wicking, anti-pilling and wrinkle resistant. Whether you're holing birdies on the course or kicking back on the patio, it's guaranteed to keep you looking cool and feeling fresh on hot summer days.

It's your time to be a real player. Step up your game with Quagmire Golf!