Shop Oilily by Category
Oilily
Notify me about

new styles

6pm.com respects your privacy. We don't rent or sell your personal information to anyone.
About Oilily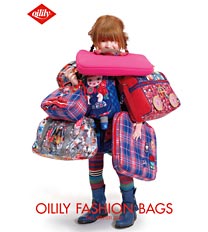 Oilily bags originated within the Netherlands, attracting much of its attention from women and children. For over twenty five years now, Oilily bags have supplied numerous shops with funky and eclectic designs. This popular, in-demand collection has a high range of styles that include everything from baby changing bags (diaper bags) to pencil cases. Yes, ladies, Oilily even has an exquisite range of fabulous up-town handbags for you!

Other than impeccable range and quantity of their collections, Oilily bags offer adorable themes and patterned designs for various seasons. Now, you can liven up any outfit for every season with one of these cute and conventional bags!

With collections that are usually released every six months or so, these bags are bound to enhance your lively cuteness! With uniqueness and convenience, Oilily bags are gaining worldwide attention. Pick your favorite Oilily bag and you'll not only stand out from a crowd, but you'll be admired and adored!