Shop Not Soap Radio by Category
Not Soap Radio
Notify me about

new styles

6pm.com respects your privacy. We don't rent or sell your personal information to anyone.
About Not Soap Radio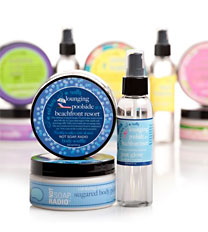 Not Soap, Radio is a whimsical bath and body brand designed to assuage modern frustrations such as dieting, love, stress, general craziness of everyday life...in an amusing, smart, laugh-through-it way. The skincare company was launched six years ago by former fashion writer and publicist Laura Cabot and her sister, Suzanne.

The Not Soap, Radio line consists of aromatherapeutic bath and shower gels, a virtual getaway spa and travel collection of sugar scrubs, body soufflés and dry oil perfumes, all-natural lip plumpers, bronzers, a sorority and collegiate collection, children's spa products, hotel amenities, and professional spa treatments. There's really something for everybody with Not Soap, Radio bath, body and beauty products.

Not Soap, Radio can be found in countless boutiques, here and abroad, including department stores, museums, bookstores, spas, online boutiques, design and home goods stores, even movie theaters!

This fun and gift-able beauty line has received a great deal of press in various publications and has earned a big celebrity following because of its whimsical, lighthearted personality, and of course, the high-quality, fun-to-use products. Not Soap, Radio products are a pampering treat and a nice escape from the day-to-day stresses of life. These amazing body and beauty products are as fun to give as gifts as they are to use. They're perfect pick-me-up presents for birthdays, graduations, bridal showers, or just-because!

Not Soap, Radio -- because sometimes money CAN buy happiness!