Shop Mulholland Brothers by Category
Mulholland Brothers
Notify me about

new styles

6pm.com respects your privacy. We don't rent or sell your personal information to anyone.
About Mulholland Brothers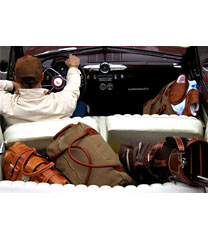 Originally conceived as a way of channeling their wildness, the Holland family, comprising of a father and his two sons, founded Mulholland® in 1984 in the basement of their house. The Mulholland line began with making things they knew such as fly reels and shotgun cases all by hand then testing them out themselves on the weekends. Using the finest raw materials that they knew could take a beating; they sold them to a loyal customer base that enjoyed a way of life similar to their own. Back then, all proceeds from what was sold was kept in an old coffee can.

Now, as the family has grown to include wives and children, the Mulholland company is solidifying the balance between their brand, their family, and their customers to reflect their evolution as both a company and a family. The evolution, which includes a new brand logo, is designed to express their love of adventure, anything well done or well made, motorsports, and plain old independence. It's a love that goes back to the days when the founder, Jay Holland's, uncle flew his biplane as a barnstormer and his grandfather raced his handmade hotrods around the San Francisco Bay Area.

With this evolution, it brings new products, categories, and experiences which were all born from the way they live their lives. It's not a reinvention; it's the ultimate step in the convergence of their personal philosophy, their company, and the products they create. The excitement of this new era brings back the feeling just like those first days in 1985 for the Holland family. Granted, the company has grown to have more people and products, more factories around the world, and they now keep track of revenue with software instead of in a coffee can, the overall commitment to creating the highest quality products remains true. From everyday backpacks with exceptional organization options to rolling duffels and luggage with rich leather trims, the attention to detail is hard to not notice.

Much of the Mulholland product development is the result of inspiration drawn from within, but they also listened to their customers and responded to their requests and needs for products that combine mobility, functionality, and style. Understanding that while Mulholland is a direct reflection of the Holland family, it's nothing without you, the customer. Mulholland is not just a line of products; Mulholland is a way of life.