Shop Momentum by St. Moritz by Category
Momentum by St. Moritz
Notify me about

new styles

6pm.com respects your privacy. We don't rent or sell your personal information to anyone.
About Momentum by St. Moritz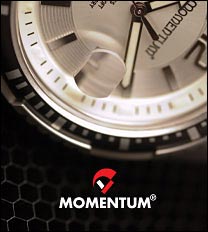 St. Moritz Watch Corp. commenced operations in North America in 1980 and our Momentum® brand has become truly international; Based in Canada, and with distribution centers in not only their home town of Vancouver, British Columbia, but also in the United States, Europe, and now Australia, they continue to set the standard for functional, reliable, and affordable watches.

St. Moritz has many new interesting models that are under development with the most recent launches on the new Storm II Series, M1-Deep 6, and the striking new Square One. Continue to look forward to further exciting additions to the Momentum® line!

St. Moritz invests extra time in the small details, to add something special to the design of each Momentum® model. More than just a great product, every watch has a look and feel which sets it apart… St. Moritz incorporates powerful new technologies in their watches to provide consumers with rock solid engineered watches with unmatched durability; their distinctive designs are truly a "little out of the ordinary". Finally their commitment doesn't end when you purchase one of their watches. St. Moritz provides prompt and professional after-sales service and maintenance, to keep your watch working well and looking good… for a very long time. St. Moritz does this in their own, fully-equipped Momentum® Service Centers. If you already wear a Momentum® watch, St. Moritz hopes the energy and passion they put into each product will be enjoyed for years to come!