Shop Miss A by Category
Miss A
Notify me about

new styles

6pm.com respects your privacy. We don't rent or sell your personal information to anyone.
About Miss A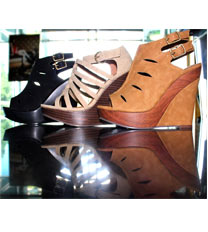 Miss A sayz: "All Attention on me, and fall in love with my sweet personality. For I am Miss All-around, an Amazing All-American girl, and there isn't anything in the world that I don't have the Ambition or Audacity to try!"
Miss A is the All-American girl. She is Miss All-around, Miss All-attention-on-me, Miss Amazing, Miss Ambitious, and Miss Audacious all wrapped in one. Miss A is all about stylish, fashionable shoes for the modern day, young, and driven girl who adores beautifully shaped pumps and stilettos, and chills in versatile yet stylish flats and boots. For those special occasions, her go-to choice is timeless dress shoes crafted with trend-of-the-moment materials and colors that are both beautiful and feminine.
Miss A is young, free, and independent. She has a can-do attitude and believes anything is possible, if she puts her mind to it. She's confident about who she is, and is definitely not afraid to create her individual look. She's fun and sweet, yet spiked with a splash of sass! One of her guilty pleasures is rocking out and singing along to her favorite track on the radio! A social butterfly online and offline, social circles define her being. To keep up, she connects with everyone and shares everything via texting and social media. In her spare time, she gives back to her local community and shows support by voicing her opinions and taking action when she believes in a cause.
The Miss A line is about injecting fashion updates to sensible silhouettes and timeless constructions such as the three-inch pump, flats, ankle boots, and evening sandals. Each season, designers travel the world to bring the most appropriate fashion inspirations to the collection, so as to provide that certain Miss A Amazing All-American girl look: tasteful yet stylish lines, perfect and balanced color palettes, and sensible yet trendy materials!
(#MissAsayz)