Shop Martino by Category
Martino
Notify me about

new styles

6pm.com respects your privacy. We don't rent or sell your personal information to anyone.
About Martino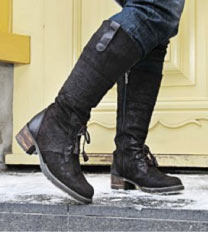 Who says winter means you have to bundle and disguise the latest fashion trends? With the bold new looks of Martino™, you can now step out in the cold and show off the latest sizzling styles!
Come catch the fresh new styles of the highest elegance of Martino of Canada. These all North American handmade works of art in fashion design and comfort grace the foot as a diamond graces the finger. But these boots are not just made for looks. They are made for walking! These boots can handle the hardships of the coldest Canadian winters with features like 100% waterproof leather, memory foam insoles, tracking soles, and the breathability of a 4-season lining. Martino of Canada transports the foot into a fairytale of comfort, fashion, and elegance to make the wearer feel like a princess.
Winter can be a great opportunity to heat up your style and make your footwear runway ready. Martino offers so many great looks, you're only dilemma will be incorporating a style for every day of the week!