Shop Joe's Jeans by Category
Joe's Jeans
Notify me about

new styles

6pm.com respects your privacy. We don't rent or sell your personal information to anyone.
About Joe's Jeans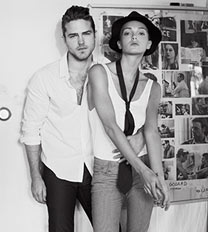 Joe's Jeans® offers a classic yet modern range of timeless styles from premium denim to handcrafted collection pieces. Joe Dahan introduced Joe's Jeans in 2001, with a collection of chic, sophisticated silhouettes that are designed to fit individual body types. Joe pioneered the concept of unique fits for a breadth of body shapes from straight-waisted woman to curvy figures to petite frames.

In 2005, Joe's Jeans launched a men's line of four fits that continue today: the Brixton, the Rocker, the Rebel, and the Classic. Similar to the women's line, the men's fits are designed to be as versatile as the men wearing them.

Each season Joe's Jeans applies innovative technology to provide must-have rinses, denim grades, and hand finishes that keep the collections fresh, exciting, and fashion forward. Joe's Jeans also offers a wide range of heels, sandals, and flats utilizing bright colors, unique textures, and bold silhouettes. Today, Joe's continues to push the boundaries of fabric technology and forward- thinking fashion, while combining them with fits you will look and feel great in.