Shop Hugger Mugger by Category
Hugger Mugger
Notify me about

new styles

6pm.com respects your privacy. We don't rent or sell your personal information to anyone.
About Hugger Mugger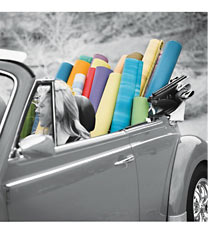 Sara Chambers, founder of Hugger Mugger™, was an accomplished woodworker when she discovered yoga. The way it impacted her health made yoga a central focus of life. Sara began developing wooden and fabric tools to help with her new found passion. And soon after, students and teachers were requesting she make yoga props and clothing for them... and thus Hugger Mugger™ Yoga Products was born.

Sara continued to develop and perfect products for fellow yogis — including the company's namesake, Hugger Mugger™. Since the word hugger-mugger means to conceal, there couldn't be a more catchier name for the Hugger Mugger™ brand.

For the past 27 years, the company continues to be a leading innovator in all things yoga — most notably the Tapas® Sticky Mat. The Tapas® mat has become the go-to practice essential due to its sticky quality, durability and performance.

Hugger Mugger™ offers technically sound yoga products, serving yoga instructors and students alike worldwide. Hugger Mugger™ Yoga Products now offers a wide variety of yoga gear, including an entire line of Eco-Friendly products.

The company remains committed to developing products of performance, durability and comfort. The Hugger Mugger™ team firmly believes in the benefits of practicing yoga and meditation. They feel life is a journey and yoga is the vehicle that's going to take us wherever we need to go, making our journey one of celebration. This belief lead to their motto: "Celebrate The Journey." Hugger Mugger™ knows you'll come to realize their products will not only meet, but exceed your expectations and that you too will join the many teachers and students of yoga that have become their friends over the last 27 years.

Namaste!