Shop House of the Gods by Category
House of the Gods
Notify me about

new styles

6pm.com respects your privacy. We don't rent or sell your personal information to anyone.
About House of the Gods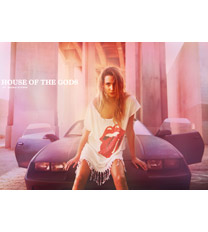 House of the Gods was founded in 2006 by the iconic fashion label Buddhist Punk to take advantage of the music industry relationships that founder Rupert Meaker and designer Adam Entwisle had built since the label's launch in 1999.

House of the Gods specializes in design driven fashion for men and women and continues in the great tradition of garments and band tees which embody the spirit of our favorite artists. The brand has developed its own singular style of original artwork, and reinvented iconic imagery in the context of the modern fashion that make it so relevant today.

Expertly blending pop culture iconography with the now and the low with the high, Buddhist Punk is fashion house that is truly integrated with the rock n' roll industry. Their tees and dress designs are heavily print based, share a natural aesthetic with rock n' roll, and embody the spirit of being in the moment. Buddhist Punk has collaborated both professionally and privately, whether for the stage, publicity, tour merchandise or their personal wardrobes.