Shop Heys by Category
Heys
Notify me about

new styles

6pm.com respects your privacy. We don't rent or sell your personal information to anyone.
About Heys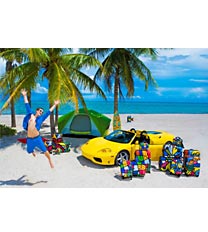 Innovating travel since 1986, Heys USA has been making a name for itself by providing functional and quality luggage with a sense of flare and attitude. Selected by prestigious world events, Heys´ unique and stylish suitcases have gained international recognition and worldwide adoration.

Heys recently joined forces with the world-renowned pop culture artist Romero Britto and introduced the exclusive Britto Collection. Bold patterns and colors that are the trademark to Romero Britto´s artwork are showcased in his full luggage line. Hardside, lightweight cases with the signature Britto designs are a must have for any art enthusiast or trendy traveler. The bright and colorful designs of the Britto cases are sure to have heads turning at the airport and you are guaranteed to never lose your bag at the baggage terminal. Complete your luggage ensemble and buy the entire collection including a carry-on beauty case, a 22", 26", and 30" spinner case all with the Britto design.

Heys has also teamed up with Disney to launch their 18" hardside wheeled luggage line. What better way to have your little one excited to travel than by allowing them have their very own suitcase? Let them chose from a variety of famous Disney characters such as Mickey, Minnie, Tinkerbell, and more. All cases are approved carry-on luggage and perfect for games, toys, and of course, clothes. The cases are lightweight and come with an extendable pull handle that is tiny-hand approved.

The days of carrying around heavy luggage that weighs you down and wears you out are gone. No more maneuvering through crowds with luggage wobbling behind you while you race to your destination. Heys is more than a luggage company. The Heys brand is synonymous with hassle-free travel. Their luggage is durable, lightweight and fashionable.