Shop Gourmet by Category
Gourmet
Notify me about

new styles

6pm.com respects your privacy. We don't rent or sell your personal information to anyone.
About Gourmet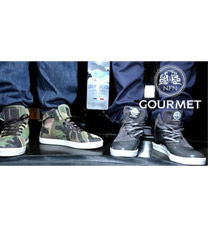 Gourmet is a brand that truly defies categorization. Above All, cornerstones influences are Italian and Italian-American culture. From old World Italy and its grand tradition of men's wear tailoring with luxe fabrics and trends that have driven the fashion market, to Italians in the metropolitan enclaves across the USA at batting cages and local giglio feasts wearing sweatpants with an undeniable swagger; Gourmet is all of the above.

For Years, refined Italian and casual all-American men's looks have been imitated, rehashed, reworked and reinterpreted season after season but never before have the collided as they do in gourmet. This is a new, revolutionary, remixed laid back luxury inspired by Italian culture, food, religion and music. Gourmet is both high and low, style forward yet familiar, chic and Gauche. Each Piece - From footwear to apparel - Possesses an understated complexity that underlies Gourmet's high concept DNA.