Shop Gossip Girl by Category
Gossip Girl
Notify me about

new styles

6pm.com respects your privacy. We don't rent or sell your personal information to anyone.
About Gossip Girl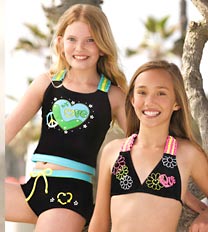 Just as the name implies, Gossip Girl is sure to capture some attention. Gossip Girl is bubbly, flirty and fashion savvy girls' swimwear brand. In her world, girls rule and she is the fashion leader. Always happy and eager to have fun, she loves the signature surf-glam look of the Gossip Girl swimsuits.

Since 2006, Gossip Girl has been designing and creating quality swimsuits for girls and tweens in sizes 4-16. The Gossip Girl finds the junior influenced styles irresistible, and mom approves of the flirty suits interpreted in an age appropriate manner. Every suit has plenty of special touches and color to catch the Gossip Girl's eye.

If it's time to find a great new suit that's sure to wow the viewers, Gossip Girl will certainly have you covered!