Shop Genetic Denim by Category
Genetic Denim
Notify me about

new styles

6pm.com respects your privacy. We don't rent or sell your personal information to anyone.
About Genetic Denim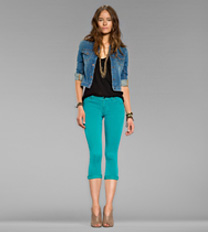 Founder and Creative Director, Ali Fatourechi, launched Genetic Denim in September 2006 to fill a void in the growing high-end denim marketplace.

Fatourechi was born and raised in Europe, shuttling between Southern France and London prior to relocating to Los Angeles at age four to commence school. He remained on the West Coast and attended the University of Southern California in Los Angeles, at which he majored in communications. There he harbored entrepreneurial aspirations, and following graduation traveled to Europe to continue studying the global marketplace firsthand. He began to collect textiles and samples, while networking to build upon an interest in the design world he'd developed through travels, and his base in Los Angeles, where the contemporary design market was growing. He sought a creative outlet that would be a natural partner in modern, commercially-oriented pursuits.

Upon his return to the U.S. he embarked on a year-long road trip in 2005, during which he experimented with the iconic – yet universal – commodity, denim. He traveled with a team of five across the country selling his preliminary designs to women, and learned over the course of 42 cities what was missing from existing retail offerings, what he might be able to offer, and what the demand was for "premium" denim.

This grassroots approach to marketing, communications and product development was the foundation for Fatourechi to create the initial core styles – cool, uncomplicated, and perfectly fitting jeans rendered in the softest Italian, Japanese, and Turkish denim. The silhouettes – bootcut, cigarette, and skinny leg styles were modern renderings of the classic, now essential denim.

Fatourechi continues to guide the direction of the brand, which includes menswear in addition to women's, and has a global presence in major department and specialty stores. He remains based in Los Angeles where production is centralized, and he travels frequently to source and develop new fabrications and washes.