Shop Foley & Corinna by Category
Foley & Corinna
Notify me about

new styles

6pm.com respects your privacy. We don't rent or sell your personal information to anyone.
About Foley & Corinna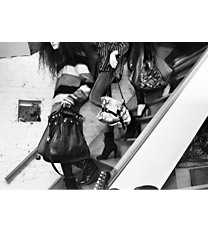 The story of Foley & Corinna began in 1998 at the Chelsea Art and Antique Market. Dana Foley and Anna Corinna were both inspired by vintage, downtown-chic styles and the everyday fashionista. Dana and Anna quickly saw how much potential and edgy fashion they could make in the fashion world by combining their designs and eye for succulent trends. After listening to their instincts and having such passion for creativity, these trendy ladies brought the empowering Foley & Corrina brand to life.

Foley & Corinna handbags have an array of everything from sultry-sexy, sometimes harmonious, and always the belle of the ball. They provide choices of styles from the signature City Tote to the luxuriously accessorized shoulder bag and hobo style designs. Foley & Corinna has effortless transition in their designs with unique trends from day to night, season to season, downtown-chic to the sizzling red carpet and all through the after party. These designs are not just about fun and looks; they have a sense of sophisticated edge and function for the everyday gal to a big city-chic woman. Their handbag motto is that every piece can make a statement.

The mark of a Foley & Corinna designer handbag is function with a mod-chic twist to add a sense of playfulness. Every design is thoroughly thought out to create versatility and flexibility. Their handbags have multiple ways to be worn with detachable and adjustable straps, buckle and zipper accents, chains and straps with hardware detailing. Foley & Corinna have an eye for vintage gems and the classic style handbags for every woman. This striking brand is a timeless inspiration.