Shop Flexus by Category
Flexus
Notify me about

new styles

6pm.com respects your privacy. We don't rent or sell your personal information to anyone.
About Flexus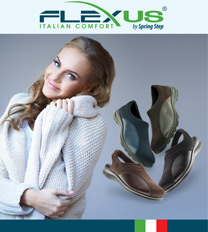 Fly Flot® introduces the leading technology to achieve superior flexibility, softness, and support. Experience the New ReActive™ soles from Fly Flot. Comfort that starts with the first step, and only gets better with every step you take. With Fly Flot, the longer you own them, the more they learn and adjust to the way you walk, the way you stand, and the way you live.

Fly Flot sandals and clogs not only look great, but they feel great too - the results of a unique process that brings applied technology to where it counts, to your feet. Give your feet wings and experience the utmost in comfort with a pair of Fly Flots!

Each pair has a shock-absorbing sole to provide effective protection from the impact of walking, to save the back, knees, hips, and spine. The Fly Flot outsole is pre-formed according to the foot's anatomy to ensure proper support and even weight distribution for maximum stability. Soles are specially made to permanently mold to the natural shape of your feet. No feet should be without the comfort of a Fly Flot shoes!