Shop Dolce Vita by Category
Dolce Vita
Notify me about

new styles

6pm.com respects your privacy. We don't rent or sell your personal information to anyone.
About Dolce Vita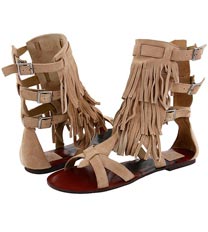 All about Dolce Vita®

Launched in 2001, Dolce Vita's nonchalant attitude towards fashion resulted in footwear and clothing lines that are effortlessly stylish yet delightfully flirty. By showcasing chic looks attributed to the label's very own modern muse—the young, the restless and the glamorous, Dolce Vita has developed an earnest following and is a favorite in great boutiques everywhere. From dresses to tops to sandals and heels, Dolce Vita is your one-stop-shop for everything posh.

Dolce Vita quickly became Southern California's best kept secret. A favorite of the youthful and trend-conscious, its footwear and clothing showcase classic lines but with a flirty glint of fun. Once an exclusive presence of chic boutiques, Dolce Vita shoes and clothing are your choice to capture a little slice of West Coast 'glam.'

The Dolce Vita girl exudes effortless cool. She takes the latest fashion trends and adds her own personal style in the mix, always a step ahead of the rest. Dolce Vita is always on the pulse of what's going on in the pages of the hottest magazines and on the top must-have lists of fashion editors. With Dolce Vita shoes and clothing, you'll always have the most sought-after styles in the hottest colors and silhouettes out there.