Shop Dermelect Cosmeceuticals by Category
Dermelect Cosmeceuticals
Notify me about

new styles

6pm.com respects your privacy. We don't rent or sell your personal information to anyone.
About Dermelect Cosmeceuticals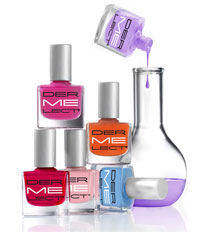 DERMELECT

Dermelect is the first cosmeceutical line jointly formulated by medical professionals and licensed estheticians. The only line to bridge the gap between the physician´s office and spa cosmetic treatments, Dermelect focuses on bringing to market quality therapeutic products containing multi-tasking ingredients designed to improve lifeless looking skin while combating aging and environmental factors. Targeted solutions for problem areas with dermatologist tested ingredients.

Dermelect is not another doctor´s range- it was developed with the guidance of the Dermelect Board of Advisors. We assembled an established group of professionals all centering their education and careers on skin care but all with different backgrounds and perspectives. Consisting of a facial plastic surgeons, dermatologists, celebrity stylists, estheticians and even an asthma specialist, we took their advice, input and knowledge and implemented it through every step of the process: from product identification and formulation to final packaging. Each item in the range was carefully thought out to contain proven, innovative ingredients designed to improve not only the skin but the esteem of the person who uses it.

Minimal Time, Maximum Results! Dermelect Cosmeseuticals spotlights, as its key demographic, women experiencing natural changes in their skin due to aging, stress, environmental factors, menopause, and pregnancy. Concentrating on prevention as well as treatment, Dermelect provides targeted solutions to focused areas to provide ultimate benefits. Divided into four categories: Skin Solutions, Total Body, Eye Care, and Anti-Aging, the range is designed with the woman in mind. The luxurious, yet effective solutions feature the latest technologies, ingredients, and delivery systems that are used to provide optimal beauty benefits. Our products are equally effective as a supportive range for pre and post medical procedures or as a stand-alone line for at home use.

Dermelect resolves to be a forerunner of emerging trends by continuously developing new and original products and to effectively be able to adapt to change. Only the highest quality ingredients are used to create a prestigious and intelligent product under the highest standards. Dermelect strives to provide results-driven, reparative skin treatments for all skin types.

All Dermelect products are dermatologist recommended, tested for purity and not tested on animals.