Shop DEPT by Category
DEPT
Notify me about

new styles

6pm.com respects your privacy. We don't rent or sell your personal information to anyone.
About DEPT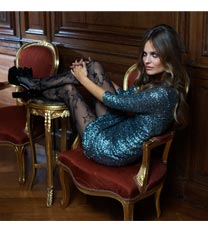 Fashion is the visual expression of culture — it should never be boring.

Launched in Holland in 1996, DEPT has become a reliable and inspiring international fashion brand. Packed with magical moments and global references, the collection aims to evolve fashion and translate it into a conversation that is understood by women of all ages and walks of life.

Working from the heart to provide women with fresh, fashionable designs each season, DEPT seeks to create a personal relationship with the women who love and live in the brand.

DEPT celebrates designs and styles that are confident and individual. Through the expert use of materials and a clear handling of colors and silhouettes, the collection is the perfect blend of eye-catchers and must-have basics. Each season is built around a theme, and the emphasis on new shapes and designs creates a strong character and a clear signature.

The great thing about fashion is that you can change your mind every season. While the color, signature, and aura of each collection may change, the result is always 100% DEPT.