Notify me about

new styles

6pm.com respects your privacy. We don't rent or sell your personal information to anyone.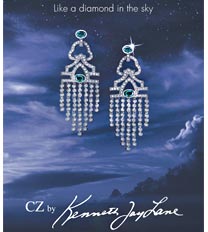 Elegance, luxury and good taste never go out of style. Kenneth Jay Lane and his fabulous costume jewelry have caught the eye of the world's most glamorous women for over four decades. Moreover, Kenneth Jay Lane jewelry pieces are now as sought-after and collectible as precious gems.

In 2009, Kenneth Jay Lane and Jardin created a new division using the branded signature label CZ by Kenneth Jay Lane. This line features hand-cut, hand-faceted, and top-grade Cubic Zirconia stones. Each stone is meticulously hand-set into mountings that have been master molded by trained jewelers. The designs run the gamut from "look of real" to "red carpet glamour."

While Kenneth Jay Lane jewelry has long sparkled with crystals, pearls and colorful enamel, CZ by Kenneth Jay Lane deals specifically with Cubic Zirconia stones. This signature collection infuses designer details into classic styling that can be best expressed with uniqueness, quality manufacturing, trendy design elements and timeless beauty. The CZ by Kenneth Jay Lane jewelry collection takes a woman's lifestyle into consideration. Their jewelry designs are worn for all the events of a woman's busy life; from corporate wear, to casual events, to Little-Black-Dress events, to special occasion events, to bridal and bridal party, for resort and travel – for no other reason than to just look amazing!

CZ by Kenneth Jay Lane jewelry pieces will be offered to customers year after year, generation after generation. And glamorous women can relate to the brand's tagline: "Who needs real diamonds when you can have CZ by Kenneth Jay Lane"!