Notify me about

new styles

6pm.com respects your privacy. We don't rent or sell your personal information to anyone.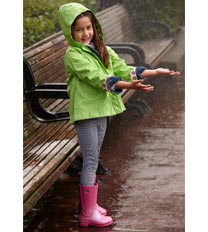 Simply put, Crocs™ kid's shoes are a bona fide phenomenon in the world of footwear. That might have something to do with the fact that Crocs shoes are the most comfortable and versatile shoes your child will ever own. Originally intended to be a boating and outdoor shoe, Crocs kids shoes have become universally accepted as a fashionable, all-purpose shoe.

The reason Crocs shoes are so popular is that they are a totally new breed of shoe that mixes the comfort of clogs with a space age material that has incredible benefits for your child's feet. The special Patented Closed Cell Resin (PCCR) warms and softens with your child's body heat and molds to your child's feet. With Crocs European styling of the orthotic heel, built-in arch support, and tarsal bar position, your child's feet are in for ultimate foot comfort and health.

With a wide array of bright colors and styles, Crocs shoes are perfect for kids of all ages to enjoy on the beach, on a walk, at school, or just hanging out with friends. So what are you waiting for? Let your child join the millions of satisfied children who are crazy for Crocs!