Shop Corkys by Category
Corkys
Notify me about

new styles

6pm.com respects your privacy. We don't rent or sell your personal information to anyone.
About Corkys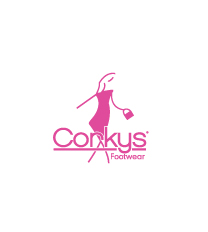 When Corkys footwear was started in 2006, offering consumers comfortable, fun, and inexpensive flip-flops was the plan. EVA flip flops have molded dual memory insoles that fit the arch of your feet. When you slip a pair on your feet, you feel the incredible comfort, and they feel so dreamy. When developing styles and products, Corkys' goal has not only been comfort, but also creating styles that are stylish and fun to wear. Corkys' wants to always bring a smile and happy feet to consumers. Corkys offers a variety of styles in a variety of materials and accents, including a lot of bling. Small sizes, large sizes: Corkys footwear has it all and more.

Corkys' has grown into a multiline company with comfort in mind. Their new line, Elite by Corkys, is hand-painted leather with a festive looks in many fun colors, mainly for the woman who won't sacrifice aesthetics for comfort. Corkys always says, "Comfort does not have to be ugly." The Elite line has provided consumers with a way to see and experience both. The new Western line, Gypsy Girl, brings all-leather western boots offered in many different toe shapes, heels, and colors. The colorful rain boot line offers classic and Western styles in a lot of unique, fun looks. Corkys also creates a full kids line, featuring sandals and rain boots.

Corkys Footwear Inc. is comfort, fun, unique, different, and a great value for the consumer.