Shop Chef's Choice by Category
Chef's Choice
Notify me about

new styles

6pm.com respects your privacy. We don't rent or sell your personal information to anyone.
About Chef's Choice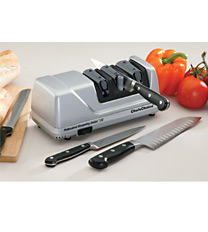 Headquartered in Avondale, PA, Edgecraft Corporation was launched in 1985 with the introduction of its model 100 electric sharpener, which was immediately acclaimed worldwide for its performance and quality. Today, the company produces the most technologically advanced sharpeners as well as high-quality cutlery, food slicers, waffle makers and hot beverage products and markets them in 50 countries around the world under the Chef's Choice® brand.

Favored by professional chefs as well as homemakers, Chef's Choice products are known for their superior performance and reliability. Those delicious waffles you enjoy at your favorite restaurant are very likely baked in a Chef's Choice waffle maker. Why not enjoy professional results at home with the Chef's Choice Belgian WafflePro®. Or treat yourself to barista-quality coffee with the Cordless Electric French Press.

Have you ever wanted to process your own deli-thin meat and cheese slices at home? You can do it with one of the easy-to-use and easy-to-clean electric food slicers from Chef's Choice. And when it's time to sharpen your favorite paring knife because it's just not cutting through an apple as easily as it used to, you can rely on the Diamond Hone Sharpener to get your cutlery as sharp as a razor in no time.

From manual and electric knife sharpeners to food slicers and electric kettles, when it comes to quality, function and contemporary design, Chef's Choice is an industry leader.