Shop Trask by Category
Trask
Notify me about

new styles

6pm.com respects your privacy. We don't rent or sell your personal information to anyone.
About Trask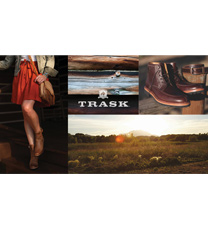 H.S. Trask® is the story about a man who followed a river and found his dream. It's not just the story of one man; it's the story of us. It's the story of America and of a dream that's alive and well in entrepreneurs, small business, and in people who take pride in a job well done.

Trask® shoes are designed to look and feel great for years to come by using only the best leathers, materials, and construction techniques. There are many choices from oxfords, slippers, and boots! Like distilling small-batch bourbon, the Trask production process may not be the easiest or fastest way, but it reflects a deep respect for the materials and an understanding of the value of real craftsmanship. There is a joy in creating footwear that is anything but ordinary.

Trask will provide men and women with must-have getaway footwear and accessories with a strong style point of view. Like so many other things that are worth pursuing, they don't get old, they get better. And long after the others are relegated to the back of the closet, these are the ones you'll count on. Trask is that voice in the back of your mind saying, "feel the comfort, feel the love." Trask is an American icon that's earned its reputation one step at a time, one generation after another. It's our heritage and our story. And now it's yours, too.