Shop Bibi Kids by Category
Bibi Kids
Notify me about

new styles

6pm.com respects your privacy. We don't rent or sell your personal information to anyone.
About Bibi Kids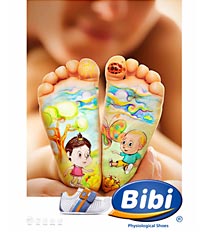 Bibi: "Fitting the Future."

Bibi is a pioneer company in manufacturing children's footwear in Brazil. Its shoes, made for children from zero to 12 years old, can be found with brand technology and its own design in shop windows. Innovation is the word that defines the good current moment of Bibi children's footwear. Bibi shoes contour to the natural shape of the child's foot. The soft materials allow the foot to breathe. Flat insoles have microbial treatment to keep foot odor away.

The success of Bibi's collections are directly linked to the hard work done in every direction, encouraged in every department at the company, from product development to production, to management and communication, and to the point of sale. The results are evident and amaze the market at each launch. Children reinvent the world and Bibi translate that into shoes.

Founded in 1949, Bibi was the first Brazilian shoemaking company to receive the title Company friend of the children from Abrinq and Unicef and the first in Latin America to achieve the ISO 9001 quality standard. With over 57 years of history, today Bibi is present in over 60 countries with its own brand, technology and design. The ongoing quest for a balance between the child's play-and-learn universe and health care is represented in every product bearing the Bibi brand.

For more than 55 years Bibi has put the cutest shoes on the cutest feet. Bibi's anatomically correct footwear is infused with the latest in medical research to assure that your child's foot remains healthy through all stages of development. With fashion forward European inspired styling and color combinations Bibi will certainly please even the toughest young customer, and brighten your day.