Timi & Leslie Diaper Bags
Shop Timi & Leslie Diaper Bags by Category
Timi & Leslie Diaper Bags
Notify me about

new styles

6pm.com respects your privacy. We don't rent or sell your personal information to anyone.
About Timi & Leslie Diaper Bags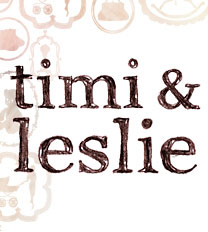 Inspired by her collection of vintage bags that spans the '30s through the '60s, Leslie Newton was always drawn to those classic, elegant shapes with a quirky, feminine edge. Timi & Leslie Inc. was originally founded in the spring of 2000. A Los Angeles based company, Timi and Leslie met through their comic ties to the legendary Los Angeles Groundling's Theatre (Leslie was a member of the comedy troupe with Timi's husband in the mid-nineties). Today, Leslie Newton runs the company and is the head designer. Timi now enjoys motherhood with her beautiful boy, Max Birch.

While the accessory-design and comedy worlds have very little overlap, there is at least one common denominator between the two, and that´s handbag designer Leslie Newton. Newton can now see what she´s created just about everywhere, too. As the creator of Leslie Newton Bags, a collection of sleek diaper bags inspired by vintage shapes and fabrics, her handi work is sold in stores all over the world.

The baby bags as they are called come in all sorts of fabrics from vintage looking prints to basketball leather. There was a need for a hip, yet functional diaper bag; Timi and Leslie baby bags were the pioneers to fill this void. Leslie´s latest diaper bag collection is chic and sophisticated, using fun fabrics with vintage-inspired prints, and a small shoulder-strap. The ladylike shapes hark back to a more elegant time when ladies didn´t lug 10-pound sacks filled with life´s many necessities around every day, but still have Newton´s signature whimsical touches.