Shop STM Bags by Category
Notify me about

new styles

6pm.com respects your privacy. We don't rent or sell your personal information to anyone.
About STM Bags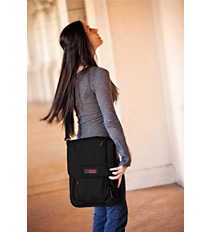 Founded in 1998 just outside of Sydney, Australia in the famous Bondi Beach suburb, STM® continues on their mission to develop a more comfortable, secure, and stylish means of transporting your laptop. STM pretty much obsesses over laptop bags focusing on high-tech laptop protection with an old-school appeal. In the end, STM bags end up looking like stylish and functional bags with a modern-day twist than a boring and bland computer bag. STM believes a laptop bag should not only protect your laptop, but also should be a reflection of your stylish persona. Finally a laptop bag that doesn't look like a laptop bag!

STM's design philosophy is guided by the concept of laptop protection. The highest quality materials and accessories make a better laptop bag. They constantly research new materials and construction methods to keep their bags at the cutting edge. STM bags are chock full of features designed to make your digital life a bit easier: iPod/phone pockets, key clips, soft lined areas for delicates, extra padded pockets, webbing loops for easy grasp and rain covers are just a few of the thoughtful design features across the STM range.

Whatever your personal computer device is, STM has got you covered. With a wide selection of messengers, backpacks, sleeves, and accessories designed for notebooks, MacBooks, and iPads, STM pours their heart and soul into every creation making it a beautiful and functional masterpiece. Their line of laptop sleeves are simply designed to un-complicate you life. Whether you carry your laptop in a sleeve alone or place it in another bag, you can be rest assured that your tech investment will be safe and sound. STM even has you covered in the accessory world with their selection of accessory organizers. Never again will you be searching for your charging cables, headphones or mouse. Keep those smaller, easy-to-lose items neatly organized with their line of organizers. At STM, obsession doesn't mean a bad thing. Protect your digital cargo with security and personal flair. Protect it with STM.