Shop Anthony For Men by Category
Anthony For Men
Notify me about

new styles

6pm.com respects your privacy. We don't rent or sell your personal information to anyone.
About Anthony For Men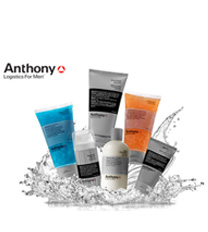 Born and raised in downtown New York City, Anthony Logistics is a brand with a modern, edgy, non-conformist attitude. They believe men should pursue their own individual style, make their own rules, and take control of their own grooming needs. The product line allows men to solve their individual concerns with smart products that are easy to navigate, understand and use.

Men have a different approach to shopping than women. They look for products to solve a particular problem. Anthony for Men engages the utilitarian male customer through witty copy that directly addresses his concerns. Each formula's "Objective" and "Strategy" is printed right on the packaging in approachable copy that makes it fun and easy for him to find the products he needs.

Unlike other hyper-masculine men's brands, however, the modern packaging and premium formulas appeal to both men and women. Women can buy the products for themselves, not just as gifts for the men in their lives.

Anthony Logistics cares about men's health and puts their money where their mouth is. Prostate cancer is a concern for all men. In fact, 1 in 6 men will be diagnosed with prostate cancer. A portion of the proceeds from the sale of all Anthony Logistics products is donated to support prostate cancer research.