Shop Anarchy Eyewear by Category
Anarchy Eyewear
Notify me about

new styles

6pm.com respects your privacy. We don't rent or sell your personal information to anyone.
About Anarchy Eyewear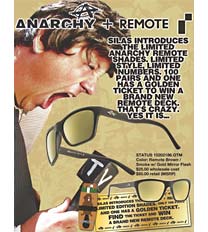 ANARCHY EYEWEAR – REVOLT AGAINST...

Anarchy Eyewear was founded and started in 1995 in the streets of youth culture and draws its influence from the core of music, action sports, fashion, art and the act of being independent and living life on your terms. Anarchy Sunglasses are designed to complement the independent customer who carves his own path in life. Anarchy customers are unique and lifestyle driven, and they demand a brand and products that reflect their nature.

With signature eyewear styles, Anarchy Sunglasses has some of the best water, snow, and wheels teams in the world backing their product. Anarchy Sunglasses goes beyond the traditional look with stylish frames and handmade acetate to deliver the best product. Anarchy Sunglasses continues to produce great sunglasses for people willing to go against the grain.

When Anarchy Sunglasses was conceived there were only a few sunglass brands in the market, and most were too expensive for the youth or anyone who spent their time surfing, skating, snowboarding, riding BMX or any other individual sport that represents their lifestyle.

There is a non-conformist in all of us and while Anarchy doesn't cross the line, they often border it – just like you. It's all about being an individual and fitting in with the daily chaos of mainstream society while keeping what's most important intact... YOU! You are today's youth and Anarchy makes glasses for you.